The Network
Nearly 40,000 alumni, alumnae, and parents call the Greater New York region their home – here's your opportunity to connect with them. The Rensselaer Greater New York Network (RGNYN) was created to better connect our Greater New York alumni/ae to their alma mater and to each other.
Engagement in the network is designed around shared career and business interests, related topics that tie alumni/ae back to campus through conversations and forums around pressing global challenges and opportunities that align with the Institute's expertise in groundbreaking interdisciplinary research and innovative pedagogy. The RGNYN offers opportunities for engage-ment around business development, career advancement, gradu-ate recruitment and student placement, and seeks to facilitate strategic partnerships among individuals, companies, foundations, government agencies and the Institute.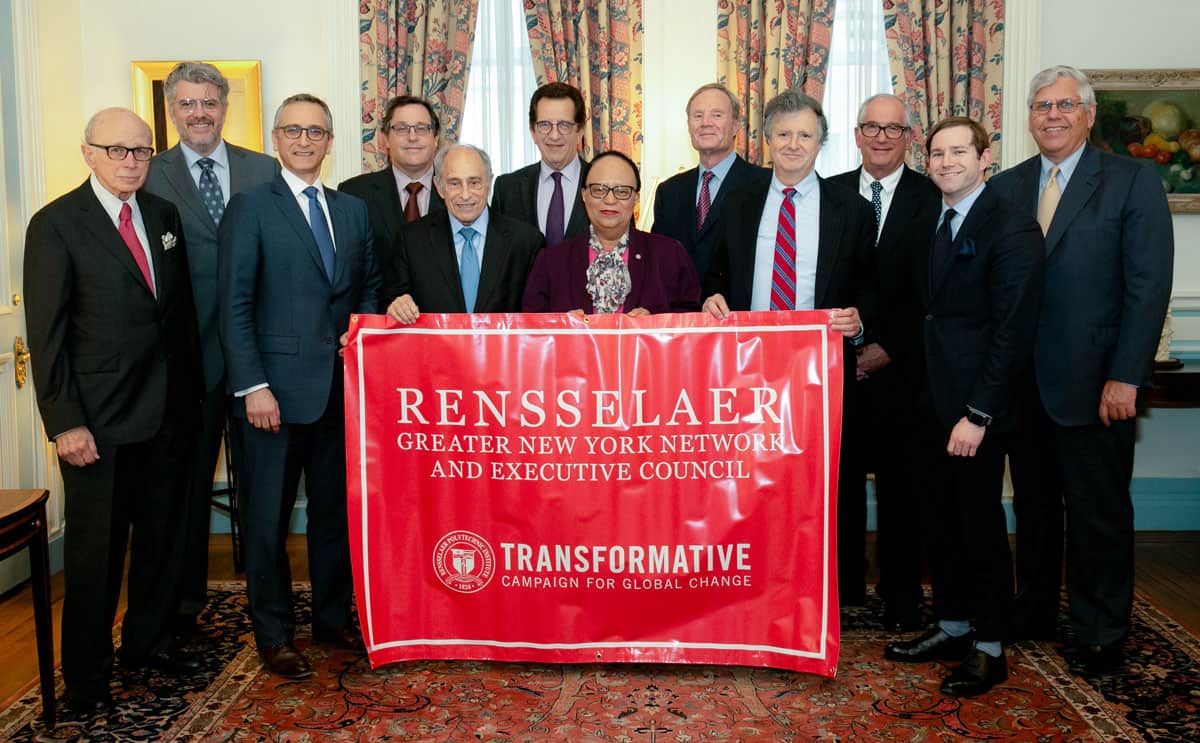 Executive Council
To succeed, the RGNYN needs an exemplary group of leaders and influencers to set the pace and light the way toward a more meaningful Rensselaer alumni/ae experience. We are asking you to join the Executive Council to provide guidance and advisory expertise that will further harness the strength or our alumni/ae in New York, New Jersey, and Southern Connecticut, and to pro-vide leadership in support of the Rensselaer Capital Campaign, Transformative: Campaign for Global Change.
As a council member you will have a front row seat to research insights from renowned Rensselaer faculty, access to the highest levels of Institute leadership, and opportunities to foster fruitful connections with other notable alumni/ae in the Greater New York region. Member terms are for three years and there are two types of membership available. All membership dues are contributed to the Rensselaer Annual Fund to support scholarships and are fully tax deductible.
LEADERSHIP LEVEL (3-YEAR TERM)
$100,000 payable over five years
MEMBER LEVEL (3-YEAR TERM)
$50,000 payable over five years
BENEFITS
Priority access to cutting-edge research on campus, including opportunities for partnership, investment, and recruitment
Serve as a key advisor to the Executive Council Chair and Co-chair and as a recognized brand ambassador for Rensselaer throughout the region
VIP Invitations to presidential, networking, and alumni/ae events in the region, with an opportunity to engage with Institute leadership
Invitations to serve as a thought leader and expert on panels at high-profile engagements and alumni/ae events focused on innovation, intellectual discovery, and entrepreneurship
Invitations to small-scale gatherings with influential leaders in academia, business, government, and philanthropy
Opportunity to host alumni/alumnae and fellow Executive Council members
Dedicated webpage with photos and biographies of Executive Council members
Host thought leadership and networking events to showcase alumni/ae and Institute leadership.
Liaise with alumni/ae serving as regional and corporate ambassadors.
Represent and promote the Rensselaer brand at place of business and in the community.
Support Recruitment, Placement and Partnership Opportunities
Identify and provide Arch opportunities.
Support recruitment and hiring of Rensselaer graduates.
Partner with Rensselaer to build corporate partnerships.
Promote incoming student recruitment.
Participate in Philanthropy
Help identify, cultivate, and recruit new Executive Council members.
Support, and encourage support for, the pillars and priorities of Transformative: Campaign for Global Change

Bridging the Gap
Faculty 500
The Third-Century Campus
Executive Council Co-Chair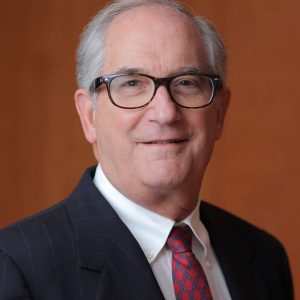 Albert Lowenthal '67
Albert Lowenthal is the Chairman of the Board and CEO of Oppenheimer Holdings Inc. and Oppenheimer & Co. Inc. (Oppenheimer), respectively. Mr. Lowenthal has held these positions since 1985, and has grown the Firm through acquisition and organic growth – taking stockholders' equity from $5 million to $544 million, as of 09/30/2018. His extensive experience gives him unique insights into Oppenheimer's challenges, opportunities, and operations.
Mr. Lowenthal began his financial services career in 1967 at Cowen & Co. Within three years at Cowen he became the Managing Partner, and he worked there until 1985. After leaving Cowen, Mr. Lowenthal purchased a controlling interest in Edward A Viner & Co., and assumed the role of Chairman and Chief Executive Officer of the broker-dealer operating company and of the public holding company, Viner Holdings Inc. In 1987, this growing firm acquired Laidlaw Adams & Peck, and then Fahnestock & Co. In the following 15 years, Fahnestock acquired a number of regional companies including W.H Newbold's, BC Christopher, First of Michigan, and Josephthal. In 2003, Mr. Lowenthal led the acquisition of two important businesses from the Canadian Imperial Bank of Commerce (CIBC) that substantially grew the franchise.
Fahnestock acquired CIBC Oppenheimer's Private Client and Asset Management divisions and changed its name to one of the most recognized names in financial services – Oppenheimer & Co. Inc. In 2008,
CIBC World Markets' U.S. capital markets business was acquired, fully rounding out the business. This transaction included investment banking, an equities business in Israel, and related operations in the United Kingdom and in Asia.
On a personal note, Mr. Lowenthal is a Baltimore native, and earned his B.Sc. in Industrial Management from Rensselaer Polytechnic Institute in Troy, NY. In 1967. He resides with his wife Carol in Scarsdale, NY and they are active in a number of local charities.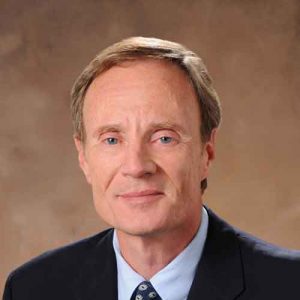 ROY N. DAVIS '78
Roy N. Davis served as President of Johnson & Johnson Development Corporation and as Corporate Vice President of Business Development for all of Johnson & Johnson (J&J) from January 2008 until his retire-ment in January 2012. In these roles, he was responsible for helping J&J to determine its new business creation and acquisition strategy and its venture investment portfolio as a global corporation. Mr. Davis was the leader of the J&J wholly owned ventures group as well as the creator of Red Script Ventures, LLC, J&J's business accelerator.
From September 2003 through December 2007, Mr. Davis held the concurrent positions of Company Group Chairman, J&J and Worldwide Franchise Chairman, Diagnostics. He was a member of J&J's Medical Devices & Diagnostics Group Operating Committee, which oversees one of the world's largest medical device businesses with over $25 billion in revenue and over 40,000 employees.
Prior to being named Company Group Chairman, Mr. Davis founded Veridex, LLC, a new company within J&J that produced award-winning products for cancer diagnostics. Earlier in his career, Mr. Davis served as Managing Director of J&J Northern Europe and in 1990 was named President of J&J Japan.
Following his retirement, Mr. Davis served as a member of the Innova-tions Advisory Board for the Cleveland Clinic and the Advisory Board for the Wake Forest Institute for Regenerative Medicine. Mr. Davis has been an advisor to Innosight Consulting since March of 2012 and to its parent company, Huron Consulting, since October 2017. He also is an advisor and Board Member for Clinical Genomics. Mr. Davis received a Bachelor of Science from the State University of New York, and a Master of Science from Rensselaer Polytechnic Institute in 1978.
Executive Council Vice Chair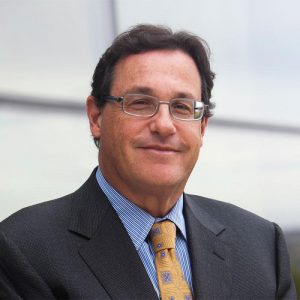 JONATHAN S. DORDICK, Ph.D.
Jonathan S. Dordick is Special Advisor to the President on Strategic Initiatives and the Howard P. Isermann Professor of Chemical and Biological Engineering. Professor Dordick received his B.A. degree in Biochemistry and Chemistry from Brandeis University and his Ph.D. in Biochemical Engineering from the Massachusetts Institute of Technology. He has held chemical engineering faculty appointments at the University of Iowa (1987–1998), where he also served Associate Director of the Center for Biocatalysis and Bioprocessing, and Rensselaer (1998–present) where he also holds joint appointments in the departments of Biomedical Engineering, Materials Science and Engineering, and Biology.
Professor Dordick's research group includes chemical engineers, bioen-gineers, materials scientists, biologists, chemists and microbiologists all focused on gaining a quantitative understanding of biological principles and applying them to advance bioengineering, nanobiotechnology, drug discovery, and biomanufacturing.
He presently serves on the Scientific Advisory Boards for several biotech-nology companies and venture capital firms, and has cofounded a number of companies, including EnzyMed (now part of Albany Molecular Research, Inc.), Solidus Biosciences, and The Paper Battery Company. Dr. Dordick has published over 370 papers and is an inventor/co-inventor on nearly 43 patents and patent applications.
EXECUTIVE COUNCIL MEMBERS
WILLIAM H. ABRAMS '58
Former Managing Partner, Stern Brothers; Former Director, New York Stock Exchange
William H. Abrams '58 has had a distinguished career on Wall Street. After graduation from Rensselaer Polytechnic Institute in mechanical engineering, Mr. Abrams earned his MBA in banking and finance from the Wharton School at the University of Pennsylvania.  He then went to Wall Street as a security analyst, and after being called up by the military, and served during the Berlin Crisis. He decided to go to the floor of the New York Stock Exchange, after military service.
In 1965, Mr. Abrams joined the specialist firm of Stern Brothers, where he eventually became the managing partner. The firm merged with Bear Hunter; Mr. Abrams retired in 2002. During his tenure at the New York Stock Exchange, he served on numerous committees and eventually became a member of the board directors.
JOHN J. DAILEADER '86
Managing Partner, Greenbrier Equity Group
John J. Daileader '86 is managing partner at Greenbrier Equity Group. Mr. Daileader joined Greenbriar in 2002. Prior to Greenbrier Equity Group, Mr. Daileader was a principal at J.P. Morgan Partners LLC, a  private equity division of JPMorgan Chase & Co., where he worked in the industrial growth investment practice and was responsible for many of the firm's investment activities in the automotive sector.
Mr. Daileader is a director of GB Auto Services, Inc., Morgan Automotive Group, Muth Mirror Systems, and Spireon Inc.  He served as a director of Argo-Tech Corporation, Grakon International, Ryan Herco Flow Solutions, Tinnerman Palnut Engineered Products, and Western Peterbilt, Inc.
Mr. Daileader earned an MBA from the Stern School of Business at New York University and a Bachelor of Science in management from Rensselaer Polytechnic Institute.
JOHN A. DELBRIDGE '91
Chief Executive Officer and Co-Founder, Mimeo.com, Incorporated
John A. Delbridge '91 is chief executive officer and one of the founding team members of Mimeo.com, Inc. Prior to Mimeo, John served as a vice president in Equity Research at Salomon Smith Barney. He also served on the staff of the chief administrative officer at Salomon Brothers.
Mr. Delbridge is the recipient of the 2014 Rensselaer Entrepreneur of the Year award and was a founding board member of Venture for America, a fellowship program that places top college graduates in start-ups based in low-cost U.S. cities for a period of two years.
Mr. Delbridge received his MBA from the Stern School of Business at New York University, and his Bachelor of Science in industrial and management engineering from Rensselaer Polytechnic Institute.
CARL de STEFANIS '76
President, de Stefanis & Associates, Incorporated
Carl de Stefanis '76 is president of de Stefanis & Associates Incorporated, established in 1990, and has served president and chief executive officer of Inspection & Valuation International, Incorporated (IVI) since 1987. Mr. de Stefanis also presides as president or managing director over the six companies affiliated with IVI that focus on providing real estate advisory services on behalf of private and institutional mortgagees and equity investors. These companies have six offices based throughout the U.S. as well as affiliates in London and Paris.
Mr. de Stefanis has served as a director of Dekania Corporation since August 2006. Mr. de Stefanis is a member of the Public Affairs Committee of the London-headquartered Royal Institution of Chartered Surveyors, the world's oldest and largest consortium of real estate professionals with over 120,000 members located in over 100 countries. He received his Master of Science in real estate finance from New York University and his Bachelor of Science in civil engineering from Rensselaer Polytechnic Institute.
TODD MITTY '86, '87G, Ph.D.
Chief Technology Officer, LionTree LLC
Todd Mitty '86, '87G, Ph.D., is chief technology officer at LionTree LLC, a global investment and merchant banking firm focused on media, technology, and telecommunications, with offices in New York, San Francisco, London, and Paris. Previously, Todd held positions in global equities and financing products at Credit Suisse, Merrill Lynch, and Morgan Stanley.
Prior to these positions, he was an Internet entrepreneur, having started NetDox, an early entrant in cryptography-enabled secure document delivery, and InVenGen, a technology incubator and commercialization engine, which he merged with U.S. Interactive. Mr. Mitty also was a management consultant with Deloitte Consulting. He began his career as an engineering consultant.
Mr. Mitty received his Ph.D. and Master of Science from Princeton University in mechanical & aerospace engineering with a focus on computational fluid dynamics, and his Master of Science and Bachelor of Science in aeronautical engineering from Rensselaer Polytechnic Institute. Mr. Mitty has held various volunteer leadership positions at Princeton University, where he is currently a member of the Dean's Leadership Council for the Princeton University Graduate School. He also serves as board president of his high-rise residential condominium in Tribeca, where he lives with his wife and two children.
WALTER NOLLMANN '77, '78G
Co-Founder, Alumni Capital Network Management
Former Partner, Accenture
Walter Nollmann '77, '78G is the founder, managing director, and chief financial officer of Alumni Capital Network, a private equity firm based in New York City. Prior to founding his firm, Mr. Nollmann spent 28 years at Accenture where, as a senior partner, he focused on consumer packaged goods and retail clients around the world, working closely with numerous Fortune 500 Companies including Johnson & Johnson, Home Depot, Wal-Mart, Stanley Works, and Phillip Morris International.
Mr. Nollman served recently on the boards of Learning Leaders, a New York City-based nonprofit organization dedicated to engaging families and communities to support student success, and BiFlex Intimate Group, an apparel company.  Previously, Mr. Nollman was the chairman of BabyAge.com, Inc. a premiere online retailer of pregnancy, infant, and juvenile products.
Mr. Nollmann received his MBA and his Bachelor of Science in engineering from Rensselaer Polytechnic Institute.
MICHAEL RICHTER '68
Chief Compliance Officer, Omega Point
Michael Richter '68 is the chief compliance officer at Omega Point, a platform that harnesses vast computational power, big data analysis, and artificial intelligence to help active and passive investment managers accelerate their strategy development and be adaptive to changing market conditions.
Previously, Mr. Richter served as chief financial officer and executive vice president of Lime Capital Management LLC. Prior to joining Lime Capital Management LLC, Mr. Richter served as the chief financial officer at Tower Research Capital LLC. Before joining Tower Research Capital LLC, Mr. Richter was the president of Citicorp Securities Services and, prior to Citicorp, served in senior financial and operational management roles at Citibank, Lehman Brothers, E.F. Hutton, American Express International Bank, and Arthur Andersen.
Mr. Richter served as independent director of BATS Global Markets, Inc. from 2008 to 2017.  He has been a member of the board of directors at Cboe Global Markets since 2017, a fintech advisor for Estee Capital since 2013, and a member of the Quantitative Finance and Risk Analytics Advisory Board at the Lally School of Management at Rensselaer Polytechnic Institute since 2013.
Mr. Richter received his Master of Science from the MIT Sloan School of Management and his Bachelor of Science in engineering from Rensselaer Polytechnic Institute.
LEWIS B. STONE '58
Retired Judge and Former Partner, Rogers and Wells

The Honorable Lewis B. Stone '58 served as a Supreme Court Justice on the New York County Supreme Court, Criminal Term in the 1stJudicial District of New York from 2009 until his retirement on December 31, 2012. Prior to his appointment as a Supreme Court Justice, Judge Stone served as an acting justice for the court from 2000 to 2008.
From 1983 to 1999, Judge Lewis was a partner of Roger & Wells. Prior to Roger & Wells, he was a partner of Carb Luria Glassner Cook & Kufeld, having joined the firm after serving as Assistant Council to Governor Rockefeller until 1970. Before his time serving Governor Rockefeller, Judge Stone was a member of Valicenti, Leighton, Reid & Pine.  He began his legal career as an associate of the law firm Strasser, Spiegelberg, Fried & Frank.
Judge Stone received his Juris Doctor from Harvard Law School, and his Bachelor of Science in chemical engineering from Rensselaer Polytechnic Institute.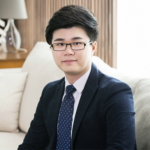 Junbin Sun '14
Principal
Fujian Hengrong Investment Group LLC
Junbin Sun '14 is a Principal of Fujian Hengrong Investment Group LLC, a national investment group focused on real estate, technology, and construction, with offices in Fuzhou, New York, Shanghai, Zhengzhou, and Chongqing. In Fujian Hengrong Investment Group, Mr. Sun is in charge of engineering consulting, project supervision, economic and trade consulting, and enterprise management consulting.
Mr. Sun holds a Master of Science degree in Health Informatics from Weill Cornell Medical College and a Bachelor of Science degree in Computer Science from Rensselaer Polytechnic Institute. Currently, Mr. Sun is working on his Ed.D. in Health Education at Columbia University and is about to complete his Ph.D. in Computer Science from Pace University Seidenberg School of CSIS with a focus on Quantum Computing. Mr. Sun earned his EMBA in Marketing from Cheung Kong Graduate School of Business (CKGSB).
FOR MORE INFORMATION PLEASE CONTACT
Patrick Campolieta
Senior Advancement Officer, Principal Gifts
Office of Institute Advancement
Rensselaer Polytechnic Institute
518-276-3719 (p)
518-390-0123 (c)
campop2@rpi.edu