The Class of 1957 Spectrum Award was created in 2017 in honor of the Class of 1957's 60th Reunion. The Reunion Planning Committee wanted to plan a class gift which would be directly tied to their class and leave a lasting impact on Rensselaer.
To accomplish that objective, to re-emphasize the Class's long-standing legacy of generosity, and to keep their strong commitment to Rensselaer and to community service, they created an endowed prize fund which will carry the class name in perpetuity: The "Class of 1957 Spectrum Award: Academics, Service, and Involvement." This award is given annually to a junior or senior engineering student with an outstanding academic record who also exemplifies the heart and attitude of community service.
Thanks to the generous support from many of the members of the Class of 1957, more than $150,000 has been donated, and the award has now been presented to five outstanding students.
A message from the Class of 1957 Spectrum Award Committee: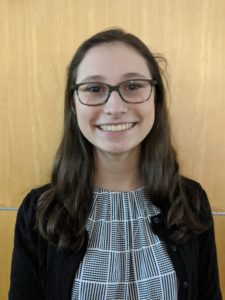 With much satisfaction, the Class of 1957 is pleased to congratulate Lisa Paige Sulmasy '21 as the 2021 winner of our Spectrum Award. Lisa joins a growing line of extremely talented and energetic students selected for this honor over the first 5 years since we initiated Spectrum prior to our 60th reunion.
Coming to Rensselaer from Grafton, Massachusetts, Lisa graduated with a B.S. in Mechanical Engineering, leaving behind an impressive record of academic achievement, effective performance in several student leadership roles, and clear evidence of her commitment to community service.
With a strong passion for better understanding the natural environment and the many ways in which it is affected by human behavior, Lisa participated in multidisciplinary research relating to the fields of ecology and ocean engineering. As a research assistant for the Ecology Department, she built an augmented reality sandbox with a projected topographic map reflecting the height and contour of the sand, capable of updating in real time and allowing for the modeling of the flow of water over a landscape. This was followed by a semester at the University of New Hampshire, serving as a Research Assistant at the Center for Coastal and Ocean Mapping, during which she designed and built a single-beam SONAR device for mapping shallow ocean floors.
The fact that she names Engineering Processes as her favorite class as it gave her hands-on experience with machine shop tools, seems consistent with her desire to understand the relationships between process and product well beyond the theory and design stage.
Beyond the classroom, Lisa's energy, personality, and ability to serve effectively in leadership roles benefitted several aspects of student life and added to the cultural richness of their experience on campus. With the Archer Center, she served as co-coordinator for the LEAP (Leadership Educators Advising Peers) program, where she selected, trained, and supervised a staff of 25 peer facilitators. Finding ways to overcome limits imposed during the COVID pandemic, the group organized and carried out numerous virtual leadership training workshops for ten campus organizations and two community groups.
For three years, she served as a student admissions ambassador, conducting in-person campus tours each week, introducing potential students and their families to both the academic and residential assets available at Rensselaer. Making effective use of social media platforms, she conducted virtual events portraying typical days of RPI students, and participated personally in webinars and student panels that served to showcase her personal experience.
An active member of the RPI Chapter of the Society of Women Engineers, she enjoyed the opportunities provided for exposure to other women working as professionals in the engineering fields.
A 4-year member of the Class of 2021 Council, Lisa served as President during her junior and senior years, planning and coordinating class activities, managing meetings, and communicating with both her class and various administrative offices.
Thanks to the generous support from many of the members of the Class of 1957, more than $150,000 has been donated, and the award has now been presented to five outstanding students.