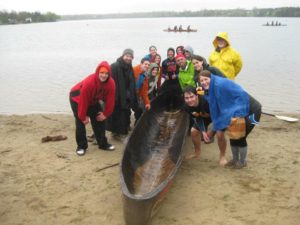 How You Can Help
Since 1835, the Department of Civil and Environmental Engineering has offered degrees in Civil Engineering, and since 1960, in Environmental Engineering – arguably the oldest such degrees of their kind in the English-speaking world. In 2010, the American Society of Civil Engineers (ASCE) designated the department as a National Historic Civil Engineering Landmark in recognition of the 175th anniversary of the first Civil Engineering degree offered at RPI.
On November 9, 1920, the ASCE supported the founding of an RPI Student Chapter, making it one of the oldest in the country. We hope you consider supporting our students as they prepare for a career in engineering, by helping establish critical funding for the RPI ASCE Student Chapter.
The ASCE Chapter supports student professional development by hosting meetings with local professionals, and participation in three national competitions: ASCE/AISC Steel Bridge, ASCE Concrete Canoe, and ASCE Geowall. Each competition has a design and a construction component, and typically engages freshman/sophomore students in construction, and juniors/seniors in design. In past competitions, RPI students were recognized as national champions in the Geowall competition on three occasions!
With the recent and sudden passing of Professor Tom Zimmie, please join us in helping to fully fund the RPI ASCE student chapter. A fund was established this year to support future travel to these three competitions and other activities undertaken by the ASCE Student Chapter in memory of Professor Zimmie.

Professor Zimmie served as an accessible and engaged mentor to students establishing their first bridge to industry and professional advancement as they completed their academic studies at RPI. He recognized the benefit of integrating a sound technical education with practical training, and led by example through his hands-on sponsorship. Zimmie led the RPI chapter as RPI's ASCE Student Chapter Adviser for 39 years until his retirement.