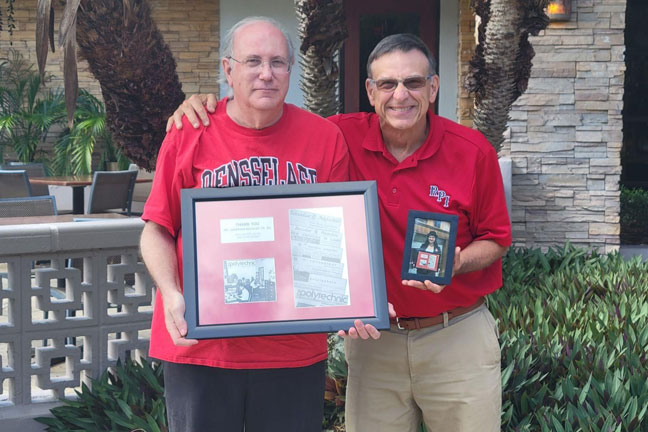 By Tracey Leibach
Rensselaer Polytechnic Institute (RPI) has received a $1 million pledge to support the Rensselaer Student Union from Jonathan Kessler, Class of 1979 and 1982. Kessler retired in September 2020 as senior information architect for Computing System Innovations. The firm develops artificial intelligence software for government offices.
The $1 million fund will be established with a five-year pledge and through a bequest gift to support the Union's contributions to the student experience on campus. Upon fulfillment of the pledge, the Union directorship will be named the Jonathan Kessler '79, '82G Director of the Rensselaer Union.
The Union contains meeting rooms, businesses, dining, and social spaces. It is a place to study, attend special events, and develop lifelong friendships. In addition, the Union manages fitness and weight training facilities and wellness programs at the Mueller Center, performance spaces in the RPI Playhouse, musical practice spaces in the J-Building, the Academy Hall dance studio and auditorium, '87 Gym, outdoor education and recreation, and more.
As a student, Kessler was very active in Union activities, including a long stint at The Polytechnic student newspaper from the first day his of freshman year in 1975 through spring 1982. While in graduate school, he served as editor-in-chief of the Poly, during what he considers one of its peak years of editorial depth, wide distribution, and campus influence. He was also a member of UPAC (the Union Programs and Activities Committee), other student publications, and as a junior helmed the first comprehensive student handbook, known as the Megabook. He is a member of Phalanx, the student honor society, and as a multi-year student supervising employee of the Union, "knows the building intimately from top to bottom."
"To succeed in careers, and in life itself, I feel students need to broaden their education beyond narrow interests," Kessler said. "The Union literally provides something for everyone. And that is why I am funding this endowment, to provide enrichment opportunities such as I myself enjoyed."
Kessler earned a bachelor's degree in biology from RPI in 1979. He went on to earn a master's from RPI in technical writing in 1982. Prior to joining Computing System Innovations in 1997, Kessler was employed at Imagesoft, a Fiserv division that specialized in check imaging software. Before that, he was a senior information systems analyst in electronic publishing for Newtrend LLC. His first employer after RPI was Computer Associates International, where he started as a technical writer but quickly transitioned into developing a comprehensive electronic publishing markup language.
"Jon's gift is a wonderful endorsement of our Rensselaer Union and its enduring student-staff partnership," said Charlie Potts, director of the Union. "As a former Poly editor and student building manager, he knows and loves the Union. Truly, he's one of us!"
"It is my sincere hope that students recognize that the Student Union is essentially the crown jewel at RPI — historically a place where one's mind and outlook can be expanded and refined beyond the Institute's well-deserved educational foundation," Kessler said.