Rensselaer has an impact on the lifelong journeys of its students long after they graduate. However, little did Bob Nilsson '63 know that he would step on campus and make a single decision that would follow him long after retirement, allowing him to reconnect with Rensselaer alumni 50 years after first meeting.
"My very first day at Rensselaer, in 1959 I stepped off my Greyhound bus and walked by all the other students to a guy in a blue outfit," Bob remembered. "Next thing I knew, I had joined the Marine Corps and was commissioned in 1963."
Bob graduated from Rensselaer with a degree in civil engineering, he says his experiences at Rensselaer are what taught him to solve problems – a skill he had used throughout his career. "At Rensselaer, it wasn't about figuring out the right answer, it was understanding the process to solve problems," said Bob.
Bob's time in Vietnam was spent bringing wounded soldiers in from the field to receive medical care, and transporting the deceased. Bob was transported to St. Albans Naval Hospital when he broke his leg. He experienced first-hand the effects war has on someone and the struggles associated with returning to civilian life. It was these experiences that really stuck with him and inspired him to make a difference.
Bob went on to become president and Chief Executive Officer of Turner International, a subsidiary of Turner Construction, where he had a 33-year career in leadership and helped to build five out of the 10 largest buildings in the world. But that isn't what excites him. It's what he does in retirement that fuels his passion far more than constructing buildings across the globe ever did.
About 18 years ago, Bob went back to Bethesda Naval Medical Center to check on veterans who were transported from Iraq for care. It was this and his previous military experience that moved him to devote time and dedication into supporting veterans returning from war.
Bob began this with Turner Construction, where he facilitated the building of a brain injury and amputee center at Walter Reed, in Bethesda, Maryland. He hired veterans for both construction projects and career positions, and facilitated presentations for veterans to learn about business. Today, due in part to Bob's efforts, around 10 percent of Turner Construction new hires are veterans.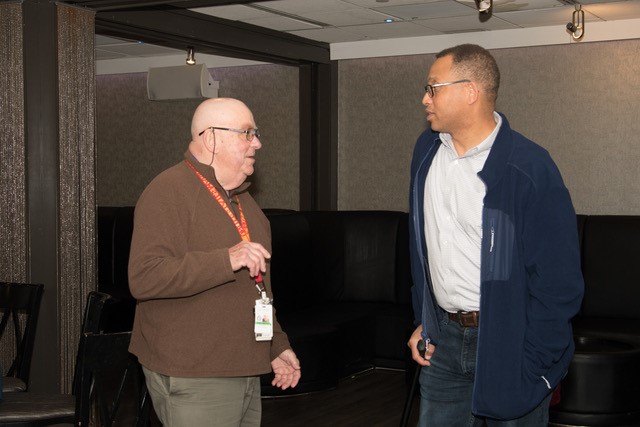 Bob then founded the 100 Entrepreneurs Project, a non-profit organization that provides entrepreneurship Q&A sessions and resources for veterans and their caregivers to start their own businesses. More than three to four hundred veterans and/or caregivers have participated in sessions and successfully developed businesses including in fly tying, farming and creating prosthetics. One veteran was shot in the head during combat and wasn't able to get out of bed for over a year and a half. Through time and recovery, now 12 years later he attends business classes and has created a group for caregivers of traumatic brain injury (TBI) who are interested in talking about epilepsy.
The 100 Entrepreneurs Project works with and supports All Marine Radio and their Post Traumatic Winning program, which has had a significant impact on the reduction in military suicides. One major marine unit has shown a significant reduction in suicides in 2019 from one to two per month for several years to just one over a nine month period since this program started.
"These veterans are young and enthusiastic and smart. Their lives have been turned upside down and inside out, the 100 Entrepreneurs Project has helped them to find something to latch onto," said Bob. "To find enthusiasm around something and to create and build a business for themselves has proven to have a huge impact on their wellbeing. It plants a seed that if there's something you're passionate about, you can go do it."
Some veterans Bob sees come through the 100 Entrepreneurs Project are fellow Rensselaer alumni, which has allowed him to coordinate business presentations with Rensselaer friends. "My career has crossed paths with some Rensselaer alums in a very strange way 50 years after we met on campus back as students," said Bob.
For more information on the 100 Entrepreneurs Project, visit www.100entrepreneurs.org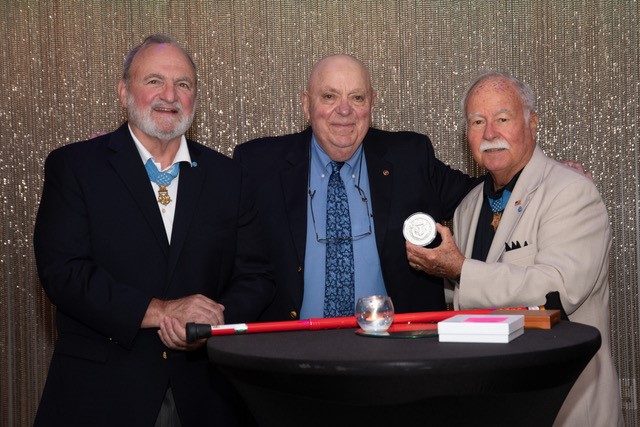 Photos provided by Bob Nilsson