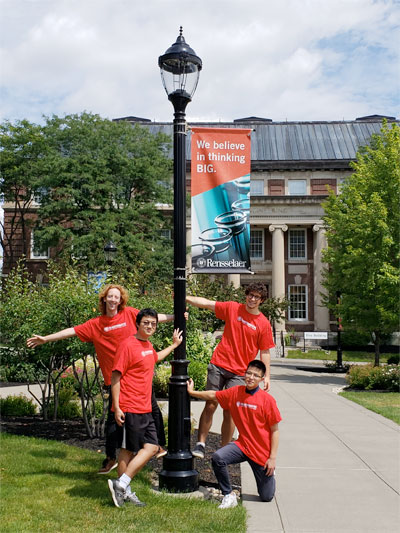 LM Sikorsky recently completed an initial phase of a project aimed at demonstrating an advanced manufacturing process focused on automating a current manual process.  LM Sikorsky was faced with the need to automate final edge prep (deburring) on titanium and aluminum components.  Off the shelf industry solutions were not able to meet LM Sikorsky's needs. 
LM Sikorsky reached out to the Design Lab at Rensselaer to obtain engineering assistance in solving this challenge.  LM Sikorsky chose Rensselaer based on the collaborative nature and available knowledge in manufacturing automation.  LM Sikorsky provided a problem statement to the Design Lab and a team of senior engineering students was assembled with the specific skills necessary to develop a solution. LM Sikorsky and the student design team jointly developed project goals and the team set off on solving the challenge. 
The Design Lab provides a real-world learning experience for senior undergraduate engineering students.  Its mission is to develop high-performing engineers by mentoring students in professional and engineering design practices through project-based learning.  Multidisciplinary teams of 6 to 8 engineering students solve open-ended, complex engineering problems for sponsors.  Sponsors provide the design challenge and technical mentors that interface with the student team.  An engineering faculty member and a Design Lab staff engineer provide day-to-day guidance and technical/design consultation to the student team.  Students provide creative ideas, practical solutions and enthusiasm. The project-based learning experience positions the next generation of Rensselaer engineers for career success.
This semester the student design team focused on defining the system necessary to accomplish the goals that were established.  Next semester they will take this system definition and mature it into a physical system, leading to a demonstration.  This project construct provides benefits for Rensselaer students and LM Sikorsky.  LM Sikorsky gets access to engineering students to address an industry relevant challenge.  The Rensselaer students benefit by applying problem solving skills, and knowledge gained during their engineering studies, to solve a real-world problem. 
The student design team's solution set brought forth new approaches and tools that the LM Sikorsky team had not previously considered.  After designing a demo part, the team defined a robot and vision system that could meet the project goals.  The students identified available cutting tools and vision systems that the LM Sikorsky team had not previously explored. 
The LM Sikorsky team was very impressed by the final report the Rensselaer student team delivered, and is excited to continue this effort in the Fall semester with another student team.  The efforts of the Rensselaer student team help to provide unique solutions that can guide technology implementation efforts at LM Sikorsky.  Feedback from LM Sikorsky leadership was very positive, as shown by the following statement from Ed Bittner, Senior Manager within Manufacturing Engineering "The RPI team has done some very impressive work so far on the automated deburr project.  Both the faculty and students are knowledgeable, well organized, methodical, and enthusiastic. I can hardly wait to see the results of their work as they move to the next phase in the fall semester."
Both the LM Sikorsky and the Rensselaer Design Lab team are excited to continue this relationship in the Fall 2021 semester!
To learn more about the Design Lab, evaluate project feasibility or collaboration, please contact Kathryn Dannemann '80, '82G, Design Lab Director and Professor of Practice at dannek2@rpi.edu.  Additional information may also be found at the Design Lab website:  https://designlab.rpi.edu.
Ryan Patry '00, '08G Lockheed Martin Fellow