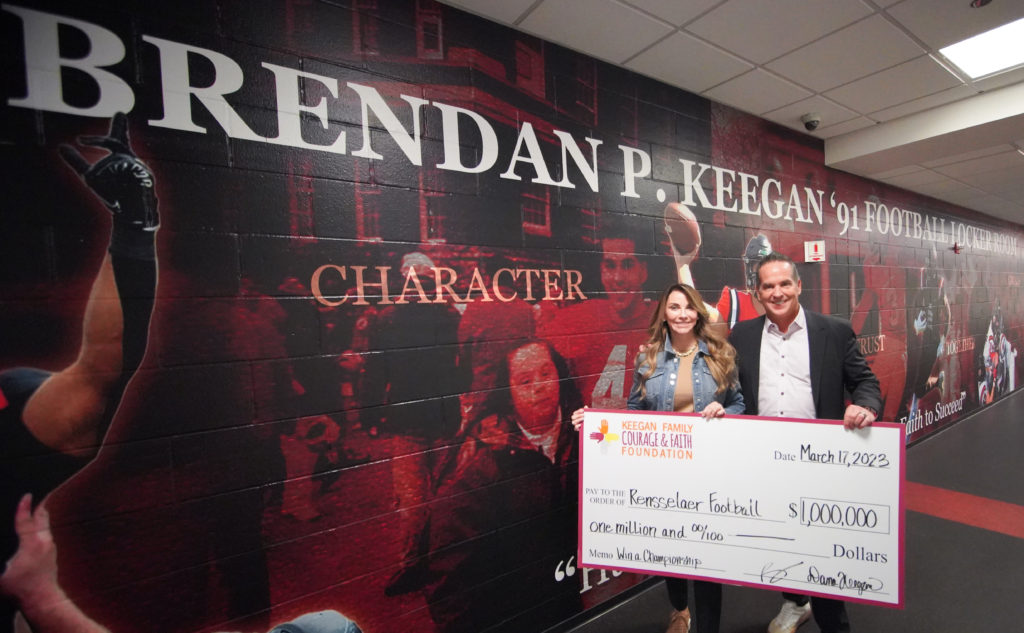 Rensselaer Polytechnic Institute (RPI) has received a generous $1 million gift to fund the RPI football program. The gift — made by transformational leader and tech innovator Brendan P. Keegan, RPI Class of 1991 and his wife, Dana A. Keegan — is by far the largest gift ever received in the program's history.
The gift will support priorities and the greatest needs of the football program, including coaching staff, recruiting efforts, equipment, travel, and locker room media technology.
"Leadership is my passion and recognizing the people and organizations that helped build my foundation is very important to my family," said Brendan P. Keegan. "Athletics plays a key role in developing lifelong attributes such as courage, teamwork, resilience, faith, service, family, and grit. And giving back to Rensselaer, the football program, and the student-athletes is simply a gesture of gratitude and a thank you – now let's go win a championship!"
"We are grateful for Brendan and Dana's significant gift to the football program," said Rensselaer President Dr. Marty Schmidt '81. "Athletics represents a vital part of the fabric of Rensselaer and this gift will go a long way in helping to support our dedicated student-athletes."
Keegan is the Chairman, CEO & President of Merchants Fleet, the fastest growing fleet technology company in North America and creator of the bFEARLESS movement. Keegan is an award-winning six-time president and chief executive officer, having raised nearly $10 billion in capital with experience leading business transformations and corporate turnarounds focused on exponential enterprise value creation with strong liquidity exits. ​Keegan serves as a co-owner and board member of Merchants Fleet, United Autosports, Revolution Armor, Sky Meadow Country Club, and ExpressIT Delivery.
Keegan earned a B.S. in Management from RPI. While a student, he was very active on campus. He was a member of the varsity football team, the Professional Leadership Society, Epsilon Delta Sigma Management Honor Society, Theta Chi fraternity, The Polytechnic newspaper, and Phalanx, RPI's honor society. He was elected Class President in 1991 and served all four years.
"We are extremely grateful for Dana and Brendan's gift," said Ralph Isernia, head coach. "Their priorities are in alignment with the mission and vision of the RPI football program. This gift is a game-changer for our entire organization and will greatly impact the experiences of our student-athletes. We are excited for the future of RPI football."