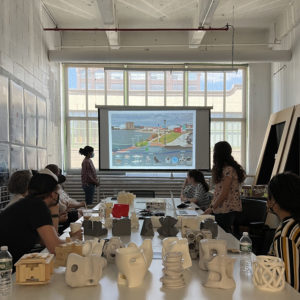 RPI Architecture students in the Design Studio are hard at work this summer developing ecological unit prototypes for a waterfront site in New York City as part of the Arch program. The goals of this exciting student design and research project are three-fold: to engage and support the ecology of waterfront sites in our cities, raise awareness of ecological interventions, and learn about concrete as a material resource.
Much of the urban coastline exists as hard sea walls or riprap, piled stones or other durable material, used to armor the coast against erosion and wave action. These have replaced long-gone conditions before industrialization, in which the coasts existed in softer forms with vegetation and other life that mitigated against storm surges.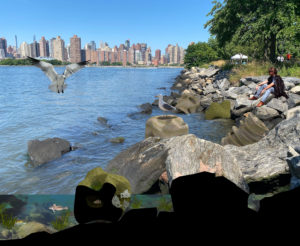 Students are designing and monitoring three-dimensional units to fit into existing shoreline riprap as part of this project. This will meet the performance criteria of ecological coastal armoring units, which, when placed in intertidal waters, will create micro-environments for small aquatic creatures and plants.
How You Can Help: Our Goal
Your gift today will help students design and fabricate these units for placement in intertidal waters. The goal is to raise $10,000 for this project before the end of The Arch summer session in August, which offsets costs for fabricating formwork materials, supplying concrete, and the rigging and delivery of units to the waterfront sites.
This team will install and monitor the units in locations on Randall's Island in New York City in order to understand how they can contribute to enhancing a living shoreline.
Design Studio Student Participants
Brendan Bielenda '25
Aditi Jayashankar '25
Abigail Light '25
Miranda Luck-Travell '25
Ethan Mihlstin '25
Cooper Myers '25
Mary Reynolds, '25
Jennifer Russo '25
Teshawn Sinclair '24
Paige Wheeler '25


Marcus Carter
School of Architecture